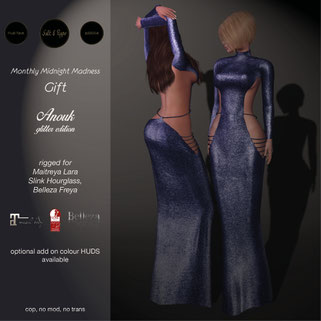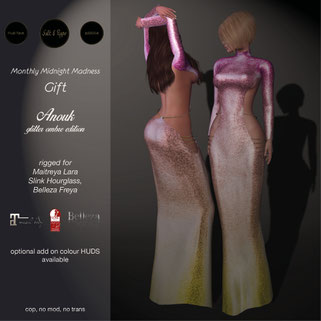 Another round of Monthly Midnight Madness is starting from Friday into Saturday midnight SLT and 13 awesome creators prepared exclusive and limited free gifts for you!
Salt & Pepper is bringing you the Anouk dress in a glitter and a glitter ombre edition! These 2 colors will be not sold after the event is over.
Gifts are limited to 1500 pieces each. In case you missed out, you can buy them from the Last Chance Vendors for another 24 hours for 50 LS. If you are a group member of the S&P and The Birdcage group you will get a 100% discount
You need your MMM group tag active to receive the gifts. More about the event : here
Additional add on color HUDs will be offered that include 5 extra colors for 99 LS only.
xoxo
Salt