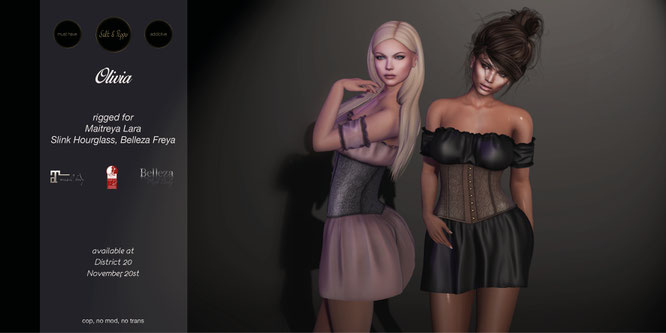 A new event is debuting on November 20th. Brought to you by the Arcade, Luxe box, TMD and Epiphany owners. District20
This event gives you an early entry on the 20th of each month if you are their VIP group member. You also get a 5% discount on the exclusive items of the event and gain rewards points for each purchase as well as a daily spin on the prize wheel!
To learn more about the event and how to join there group, read here.
Salt & Pepper brings you the new dress Olive in 8 different vibrant colors. If you decide to go for the Fatpack, you will have the option to mix and match all leather corset colors with all silk colors.
The dress is rigged for Maitreya Lara, Slink Hourglass and Belleza Freya
xoxo
Salt