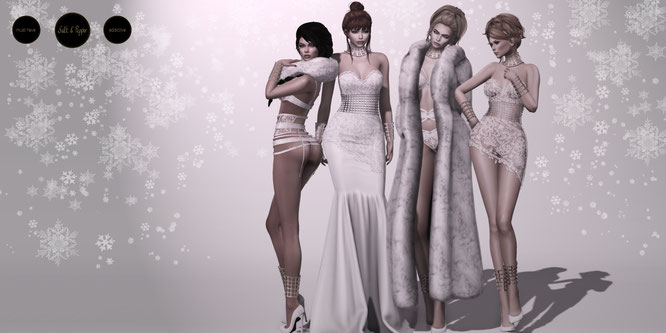 Time for a new round of The Arcade, opening on Dec 1st.
Salt & Pepper is bringing you the Winter Bride collection including dresses, matching lingerie and furs
The lace dress and the lingerie sets are common and no, you don't have to play for separate panties or bras in this set but the lingerie has all 3 pieces included in one single common set! 10 beautiful colors are available. The brides dress has a color HUD included with 10 colors for the satin, 10 for the lace and 6 for the metal parts. The Fur coat also comes with a color HUD with 5 furs to pick from
The Arcade runs 1 main and 2 mirrored sims to shop from, so if you have troubles to get into Arcade 1, try Arcade 2 ore Arcade 3!
See you there!
xoxo
Salt