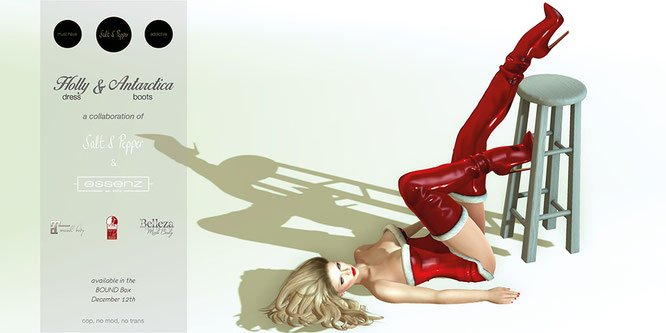 BOUND Box time!
If you haven't yet, subscribe to the BOUND - a kinky subscription box. It will be released on Dec 12th and if you subscribe before release date, you can get it for 1500 LS only. It contains Fatpacks of 12 (!) designers worth around 20 000 LS .  The December box is holiday themed and for this round Essenz and Salt & Pepper are contributing a collaboration. The Holly dress and Antarctica boots come with a matching color HUD in various latex, suede and fur options and colors!
Rigged for Maitreya Lara, Slink Hourglass, Belleza Freya
Subscribe before the price will go up after the release date! Head over to the kiosk in the Salt & Pepper mainstore and get you box! The box is also giftable! 
take a look at the full gallery
See you there!
xoxo
Salt