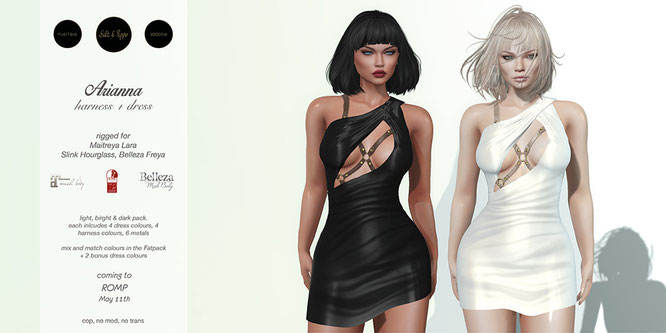 ROMP is back!
The event opens its doors to public on May 12th, but if you are a Salt & Pepper and The Birdcage group member, you can put on your tag and enjoy EARLY ACCESS from the 11th, noon SLT!
Salt & Pepper brings you the harness & dress Arianna.
It is rigged for Maitreya Lara, Slink Hourglass & Belleza Freya.
it comes in 3 colourpacks , each including 4 dress colors, 4 harness & 4 metals to choose from and of course all is HUD driven.
The dress and the harness can be worn separately or together
If you decide to get the Fatpack, you will get 2 extra bonus colors which are exclusive to the Fatpack
Arianna will be 20% off during the event. So don't miss the deal!
See you there!
xoxo
Salt