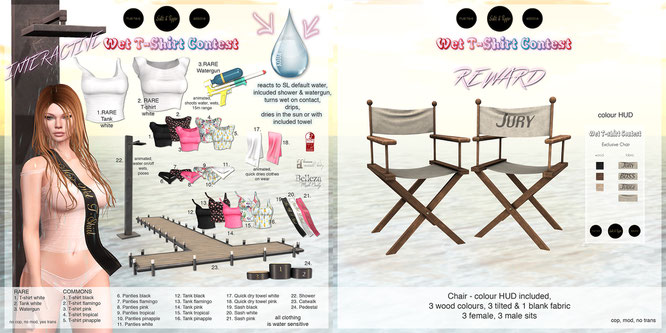 Time for a new round of The Arcade, opening on June 1st.
Salt & Pepper is bringing you the Wet T-Shirt collection which is INTERACTIVE
The clothing (Rares AND Commons) react to SL default water, the S&P Watergun and the S&P Shower. They turn wet on contact, drip and dry in the sun again or you can instant dry yourself with the towel of this set!
Available sizes: Maitreya Lara, Slink Hourglass, Belleza Freya
The Birdcage will be hosting a Wet T-Shirt contest on June 7th. Stay tuned for more info about that
The Arcade runs 1 main and 2 mirrored sims to shop from, so if you have troubles to get into Arcade 1, try Arcade 2 ore Arcade 3!
See you there!
I did a little collaboration on this with the awesome Mina Namakura from MINA hair who made fantastic matching INTERACTIVE HAIR. Her hair reacts as well to SL default water as well to all S&P Aquasense items and will be released at Fameshed on June 1st! Make sure to check that out!!!!
xoxo
Salt