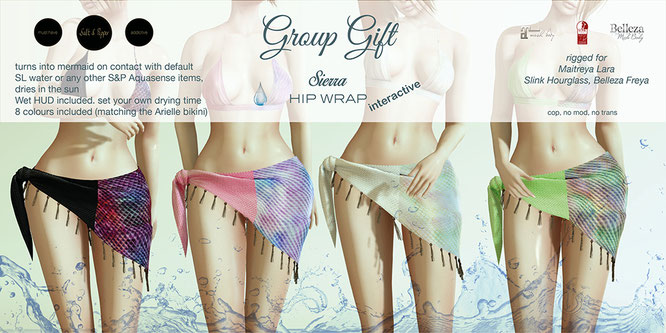 for my lovely group members!!
A brand new interactive group gift, now available in the mainstore!
The hip wrap Sierra is matching the bikini Arielle that is currently available at the Mermaid Cove.
S&P Sierra reacts to SL default water (as well as the other interactive items form S&P like the S&P Watergun and the S&P Shower.) It turns to a mermaid look on contact, drips and dries in the sun again.
Each colour turns into a different mermaid. 
BRAND NEW WET HUD included:
*set your own drying time
*stay permanently mermaid or interactive
*turn dripping on/off or set to interactive
all 8 colours included in the gift!
Available sizes: Maitreya Lara, Slink Hourglass, Belleza Freya
See you there!
xoxo
Salt