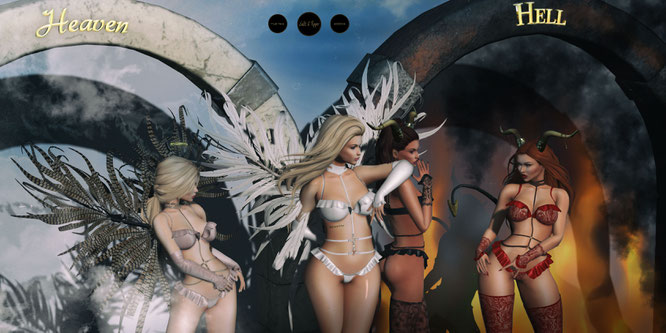 Time for a new round of The Arcade, opening on September 1st.
Salt & Pepper is bringing you a brand new INTERACTIVE collection : From Heaven To Hell
All the clothing reacts to the included gates. Wear the lingerie, the harness and the boots and walk through the gate of your choice to see the magic happen and change into a devil or an angel!
Available sizes: Maitreya Lara, Slink Hourglass, Belleza Freya
The special 25th pull reward: If you pull the machine 25 times, you will automatically receive a 3rd gate to the Garden of Eden. I will not tell you what it does. Will you dare to walk through?
The Arcade runs 1 main and 2 mirrored sims to shop from, so if you have troubles to get into Arcade 1, try Arcade 2 ore Arcade 3!
I hope you enjoy this set!
watch the VIDEO to see how it works 
xoxo
Salt