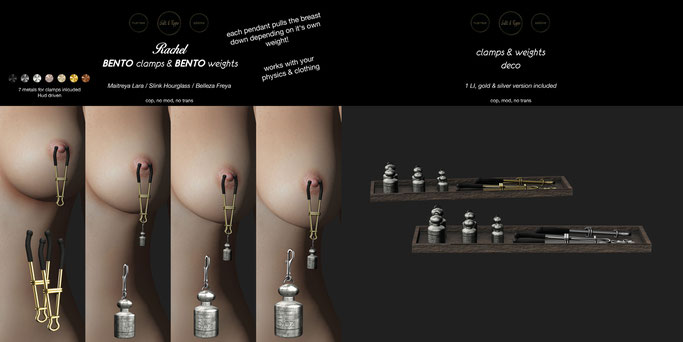 This release is a tad different from my usual ones and I am very excited about it. 
The Rachel Bento clamps & weights will be available at ROMP, Feb 9th - 23rd (3pm SLT)
If you are a S&P group member, you will be granted early access from the 8th, 3pm SLT! Have your group tag active to tp to the sim.
These weights are bento rigged and will work visually , changing the gravity of your breasts, depending on the weight you choose. You can pick between 1oz, 3oz and 5oz. 
Attach the clamps first and then pick your weight . Each side works separately!
A metal hud for the clamps is included with 7 colours to pick from.
The clamps and weights are rigged to:
Maitreya Lara, Slink Hourglass, Belleza Freya
Additionally you can also buy a decor version that includes a gold and silver colour way.
xoxo
Salt