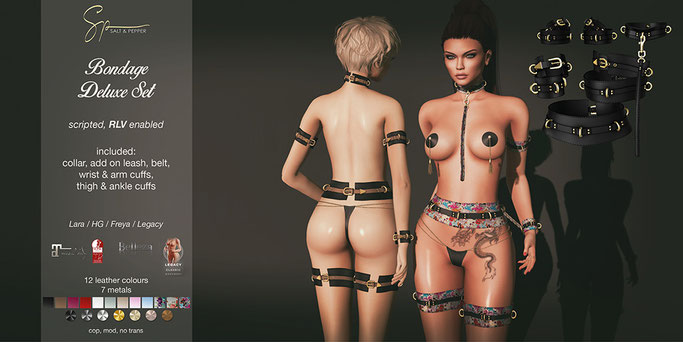 S&P Bondage Deluxe set, coming to the Fetish Fair, Aug 17th, 1pm SLT
set includes 11 pieces (Collar, adds on leash, arm cuffs, wrist cuffs, thigh cuffs, ankle cuffs, belt), rigged to following bodies:
Maitreya, Hourglass, Freya, Legacy
The set ism fully scripted and RLV enabled.
by default it is set to private. For other avatars to interact with it, you need to set it to public or add an owner.
12 leather, 7 metals included, mix and match to your liking <3
*pasties and panties are not included, this is the S&P Gigi set, separately available on mp and the mainstore (mainstore has as 50% sale until Aug 18th)
hugs and kisses
Salt